Everyone loves an icy treat on a hot summer's day. Peanut Butter "Pupsicles" are a tasty snack for your dog to enjoy that are vegan, dairy-free and gluten-free (depending on the dog bone "popsicle sticks" that you use). These homemade frozen dog treats are healthy and super easy to make.
We recently moved into a new home and discovered that we do not have air conditioning after our first 30 degree day. Our pup Rosie (the little cutie pictured) is from Mexico, so we thought that she could handle the heat. After a few days of consistent panting I made her these treats. She finished her first one in a matter of 60 seconds…and it left her cool and content.
Luckily, we have the AC company coming to install the parts later this week (woohoo!). But I will still be making this summer snack for her to enjoy.
What kind of popsicles can dogs eat?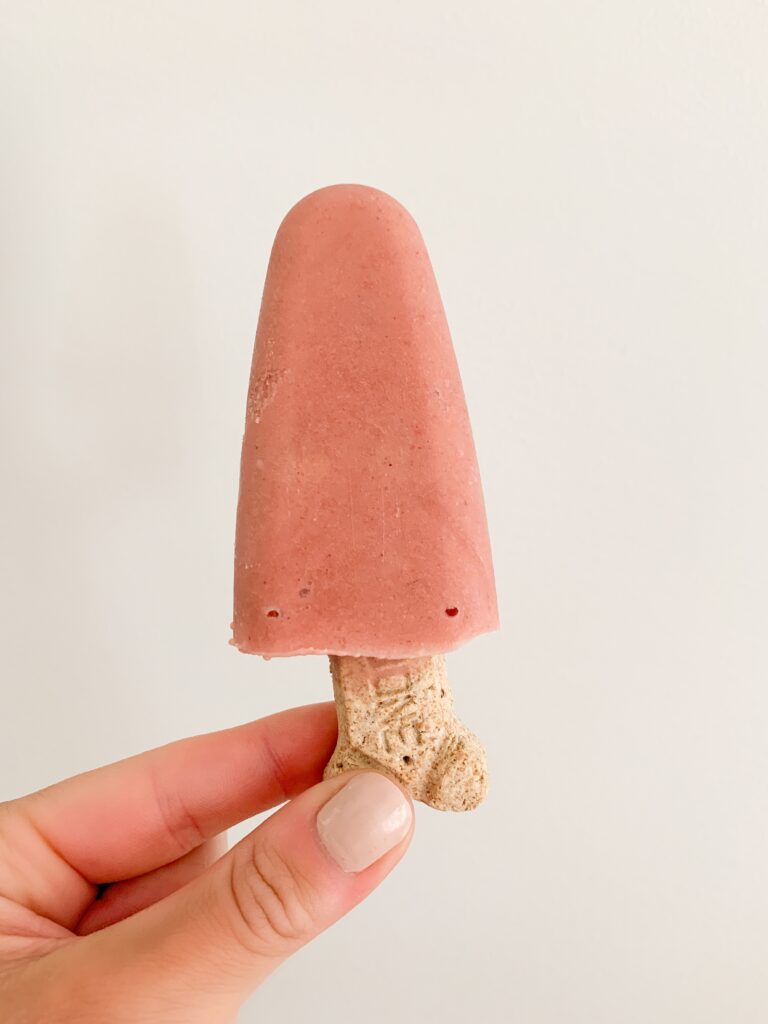 Dogs can have a variety healthy human foods. BUT it is important to research all of the ingredients you plan on using before you make any homemade dog popsicle or treat.
Some foods that you should NEVER give to your dog:
Chocolate – the cocoa plant naturally contains theobromine, which is the component in chocolate that is toxic to dogs
Sweeteners like Xylitol – this is a BAD one – and it is found in some artificially sweetened peanut butters. For this reason, it is generally best to feed your dog unsweetened PB. We currently have a jar in the fridge labeled "DOG" – since Rosie likes to double dip
Grapes or raisons – the research is limited here, however, grape consumption has consistently been tied to kidney failure in dogs
Garlic or onions – in small amounts, these may cause stomach upset. But larger amounts may cause damage to red blood cells, leading to forms of anemia
Undercooked meats or cooked bones – cooked bones are actually worse than uncooked bones since they become more brittle in the cooking process and are therefore a larger choking hazard
Alcohol or coffee – even small amounts of these should be avoided
This list is not exhaustive, and you should always exercise caution (& check with your vet) before giving your dog any food.
Before coming up with this recipe, I researched each ingredient to ensure our pups' safety. Just note that some dogs do have intolerances or allergies to certain foods (even one's found in dog foods). Dairy is a big one, which is why I did not include any yogurt in these pops. But in general, these dog-friendly popsicles are healthy for your four-legged friend.
No popsicle mould, no problem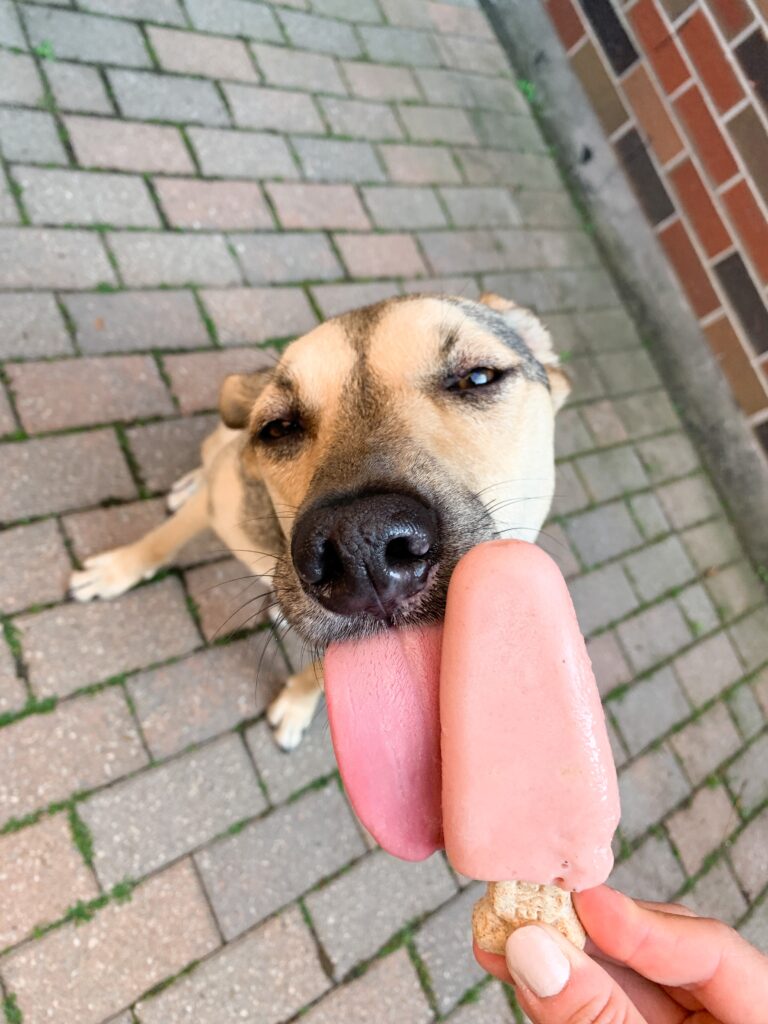 Popsicle moulds aren't the most common kitchen gadget. If you find yourself craving popsicles or wanting to make frozen dog treats, here are the ones that I use!
Otherwise, paper cups, an ice cube tray or cupcake tin will work just as well. The freezing times may need to be adjusted with these alternative moulds, depending on their size.
How to make dog popsicles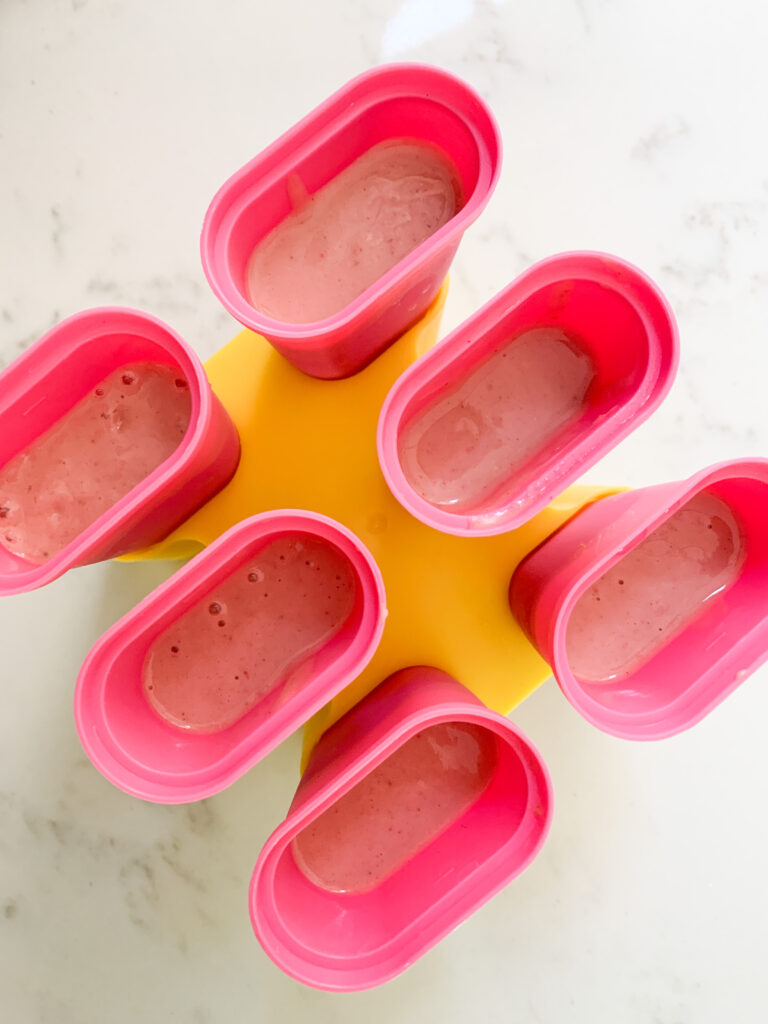 What you'll need:
Frozen banana
Unsweetened peanut butter
Strawberries
Water
Dog biscuits or popsicle sticks
First, you will add all of the ingredients into a high-speed blender and blend until well combined. Next, pour the mixture into your popsicle moulds and freeze for 30-40 minutes. This will allow for the popsicles to get a bit slushy in order to hold the dog biscuits in place.
After 30 minutes in the freezer, place one biscuit into the middle of each mould with about half of it sticking out. Freeze for another 3 hours or overnight.
Once they are frozen you can serve them to your pup! It is best if they are consumed outside as they can get a bit messy.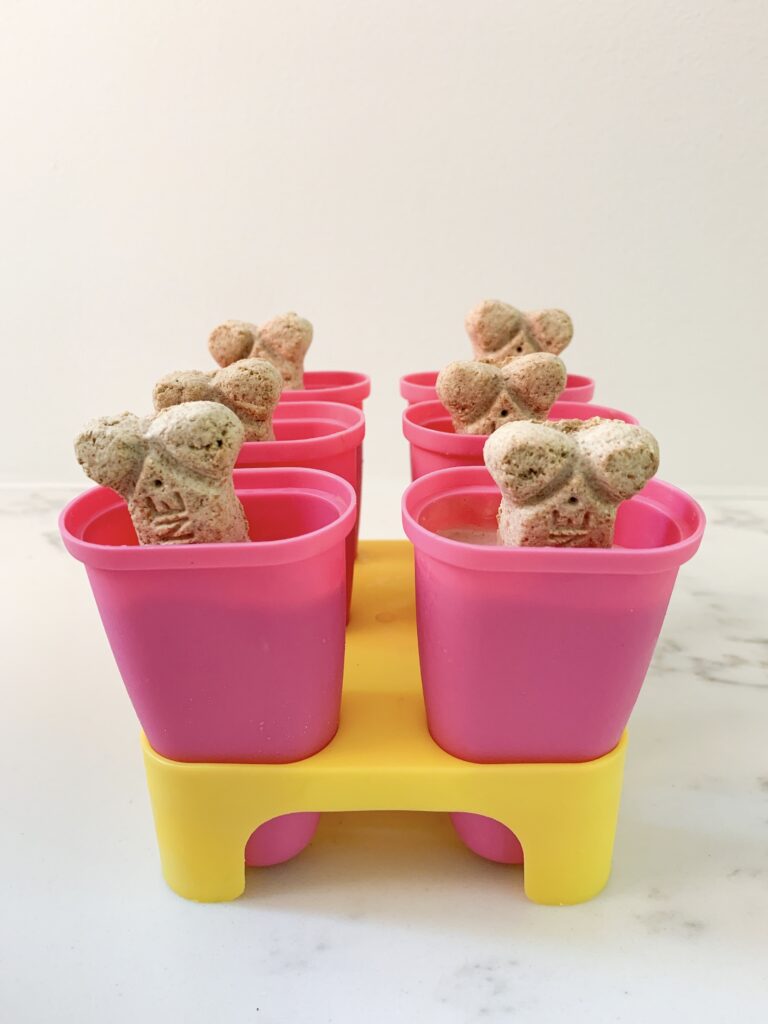 Leftover Peanut Butter "Pupsicles"
These popsicles will stay fresh in the freezer for 2-3 months.
---
As always, if you have any questions, comments or substitutions that you have tried, please leave a comment on this post. And don't forget to rate this recipe – I would love to hear how your pup enjoyed their peanut butter "pupsicles"!
Are you looking for human food? Check out more recipes here!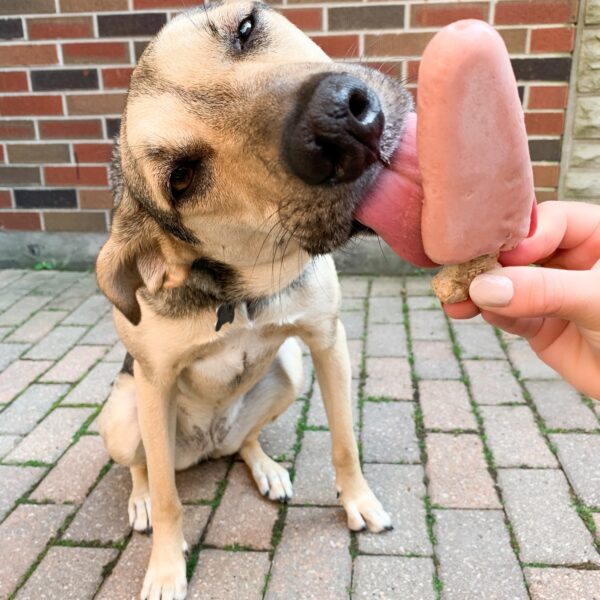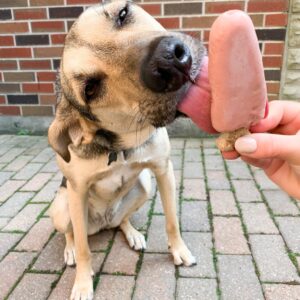 Peanut Butter "Pupsicles"
Naturally gluten-free, dairy-free and vegan.
Peanut butter "pupsicles" are perfect for those hot summer days. These frozen dog treats are made from healthy ingredients and only take minutes to make.
Print
Pin
Rate
Ingredients
1

banana, frozen

1

tbsp

unsweetened peanut butter

4

strawberries

3

tbsp

water

6

dog biscuits
Instructions
Blend all ingredients together in a blender.

Pour the mixture into popsicle moulds, paper cups, a cupcake tin or ice cube tray. Freeze for 30-40 minutes.

At this point, the popsicles should be a bit slushy and will hold the dog biscuits in place. Place one biscuit into each mould, with about half of each one sticking out above the mixture.

Freeze for another 3 hours or overnight.
Notes
These popsicles will stay fresh in the freezer for 2-3 months.
Nutrition