Had you asked me if I like tofu a year ago, I would have given you an eye roll followed by an "ew". This initial disgust definitely stemmed from my university days when all I made was stir fry with some very questionable ingredients. I remember tofu to be a mushy substance that would always fall apart in my pan and create more of a veggie slop than an Asian delicacy. Of course, this was before the days of Pinterest or foolproof Tasty videos. I clearly did not have any idea what I was doing.
Since the release of the new Food Guide, I have taken it upon myself to make more of an effort to come up with some vegetarian dishes. And with that, I have FINALLY figured out how to turn that tofu soup into a crunchy, flavourful dish. Who knew bean curd could be so good?
These tofu broc bowls are great for that lazy chef who wants to try something new. They can be made with any stir-fried veggies – I use broccoli because I love that tofu-broc crunch! The added cornstarch is necessary as it allows for the tofu to get that crispy exterior. It also helps to thicken the sauce so you don't wind up with a runny bowl. I recommend serving this with brown rice or soba noodles.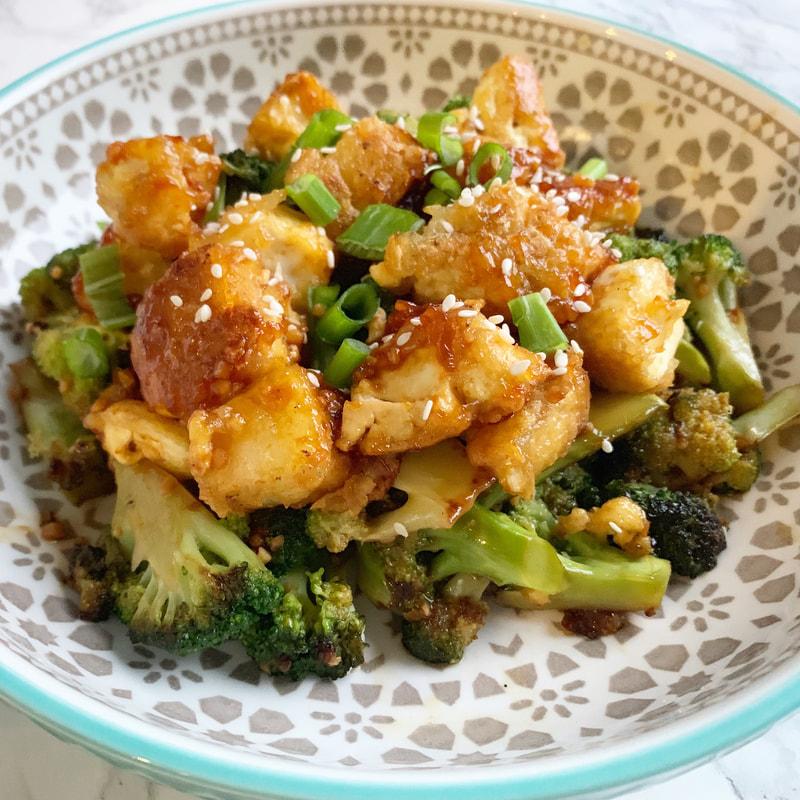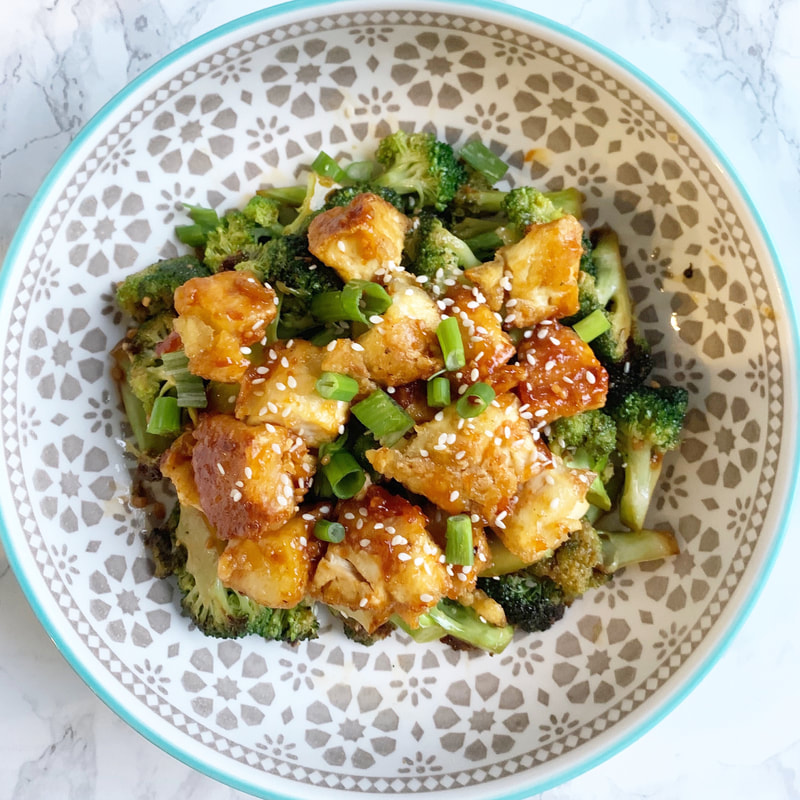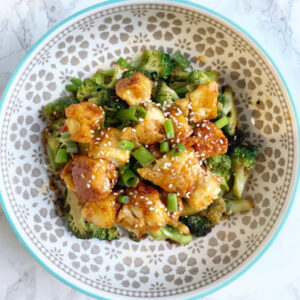 Tofu Broccoli Stir Fry Bowls
Naturally gluten-free, dairy-free and vegan.
Crispy tofu and stir fried vegetables make for this delicious vegan dish. Tastes great on its own or on top of rice or soba noodles.
Print
Pin
Rate
Ingredients
1

package

firm or extra firm tofu

(700g)

2

heads

broccoli, cut into bite-sized florets

3-4

tbsp

corn starch

4

tbsp

coconut oil

(any high heat oil will do)
Sauce
2

tbsp

warm water

1

tbsp

corn starch

1/4

cup

+ 2 tbsp tamari 

8

cloves

garlic, minced

1/2

tsp

ginger, minced

2

tbsp

maple syrup or agave

1

tbsp

sesame oil

2-3

tsp

sriracha
Instructions
Drain the tofu and cut into bite-sized cubes. Pat dry with a paper towel until there is as little moisture on them as possible.

Put 3-4 tbsp of corn starch into a large bowl and toss tofu cubes into it until they are lightly coated. This allows the tofu to get crispy (rather than mushy) when you go to fry it.

Measure the oil into a large fry pan on medium heat and fry the tofu cubes until browned, flipping every few minutes. This should take approximately 10 minutes. 

Spoon the tofu cubes back in the large bowl, and place them off to the side. 

With the remaining oil in the pan, pan-fry the broccoli florets until they start to crispy. About 7-10 minutes.

While the broccoli florets are cooking, mix together the water and cornstarch in a small bowl, until combined. Then add the remaining sauce ingredients.

When the broccoli is done, stir in 3/4 of the sauce on low heat. Once mixed, remove from the heat immediately. Place broccoli in another large bowl.

Place tofu back into the fry pan on low heat and add the remainder of the sauce. Again, once mixed, remove from the heat.

Portion both broccoli and tofu into serving bowls and top with sesame seeds and green onion.
Notes
Tastes best if served immediately.
Can replace broccoli for any favourite vegetable. Can add on top of rice or soba noodles.