Are you shopping for a loved one with ADHD? This list of ADHD gifts for adults will help you brainstorm the perfect present!
If you buy from one of the links in this post, I may earn a commission at no extra cost to you. Visit my Privacy Policy for more information on affiliates.
Whatever you need a gift for, there is no need to stress. I have got you covered. My name is Becca and I am an ADHD Nutritionist Dietitian. I have ADHD myself so I know what types of products and services can come in handy and make life easier for a neurodivergent brain.
Not all of these gifts will work for everyone. But if you are shopping for a neurodivergent friend or family member, you're likely to find something they'll enjoy here. I have included gifts across all price ranges, from stocking stuffers to larger appliances.
If you have ADHD yourself, you may be doing some last minute shopping. As of the time that I am writing this, most shopping links have quick shipping options. You're welcome.
Gifts for ADHD adults
So, what do you buy someone with ADHD?
While you likely want to get something personal, you may also want to find a gift with function and value. Some people with ADHD struggle with executive function, sensory processing or possibly even their mental health (this neurotypical world can be stressful AF).
A practical gift has the potential to make our lives easier and help us stay organized.
But keep in mind that people with ADHD may experience Rejection Sensitivity. This is when someone is sensitive to the possibility of criticism, rejection, feelings of guilt or shame.
Some gift ideas that might seem thoughtful to you – like hiring a cleaning service for a friend – may actually trigger this feeling. Even if you had the best of intentions.
So it is good to stick to items with no chance of triggering someone's rejective sensitivity. Unless, of course, you know the receiver well and know how they will react to the item. After all, a Roomba is still a wonderful gift. See below for details.
Adults with ADHD also tend to be incredibly creative and spontaneous. Something that taps into these characteristics can make for a wonderful and amusing gift.
Alright, enough with the chit chat. Here is the guide on gifts for adults with ADHD!
Kitchen tools to make meal prep more efficient
1. Instant pot
An InstantPot can be a real time-saver. It helps you create delicious, low effort meals in a fraction of the time it would take to bake, broil, or pan fry the same items.
For most recipes, you add your ingredients and some water, adjust the settings and you're off to the races! The device uses pressure cooking technology so it's quick and efficient. An ADHD dream.
The newer versions have both slow cooker and air fryer functions. Making the next two kitchen tools obsolete if you have one of these.
Buy the Instant Pot XL 8Qt 11-in-1 Air Fryer & Electric Pressure Cooker
2. Slow cooker
The perfect "set it and forget it" appliance. A slow cooker helps tenderize protein and veggie dishes and helps bring out the flavor of foods and spices. It is great for meal prepping meat dishes, soups, stews, casseroles and dips.
Buy the Crock-Pot 4-Qt Slow Cooker
3. Air fryer
If you like things crispy, an air fryer will be your best friend. I never saw the value of this appliance until I got one and began air frying everything. Veggies, chicken, fish, sandwiches (hello perfect grilled cheese) – you can even make baked goods in here.
I have had my air fryer for about four years and still use it at least once a week. Heck, I made buffalo cauliflower in it today!
Buy the Philips 1.8lb/4.1L Airfryer
4. Glassware storage containers
If you follow me on Instagram, you know that I have a love affair with Pyrex clear glass containers.
For me, clear is key to seeing what I have stored in my fridge, freezer and pantry. Pyrex containers are also dishwasher, microwave and oven safe. If you meal prep in advance, this is huge.
You can prep your food – like a lasagne or casserole, – store it in the fridge or freezer then pop it into the oven when you're ready to eat. It's amazing. FYI: the 11-cup containers are lasagne-sized.
Buy the Pyrex Glass Food Storage Container Set
Fidget toys
Contrary to what ADHD adults were likely told as kids, fidgeting can actually improve attention and cognitive performance. I personally love fidget toys as they help with restlessness or under-stimulation when working. Having one in-hand allows me to focus better on the task at hand.
5. Crazy Aaron's Scentsory & Thinking Putty
This sensory putty is a game changer. If you liked Play-Doh as a kid, you will love this. Crazy Aaron's has a variety of color options, fun add-ins like sparkles, and scents. It doesn't dry out over time and isn't overly sticky. Every classroom and office should stock up on this stuff.
6. Fidget ring or fidget spinner
You have likely seen the classic fidget toys or spinner rings that were all the rage a few years ago. They have come a long way since then. There are now more functional and aesthetically pleasing options. Items you won't feel hesitant to use in a meeting or at a social gathering. I have linked a few from Etsy sellers below.
Buy a Fidget Ring
Independent games and activities
When you think of gifts for adults with ADHD, you might not think of games. Especially if you have a loved one who has a hard time holding their focus. However, one thing you should know about an ADHD brain is that it loves to be stimulated.
In fact, some ADHDers, especially those with hyperactive tendencies, may find themselves more able to relax when they are able to use their hands.
7. Puzzles
This original independent activity pairs well with a good movie or glass of wine. If you're buying a puzzle for someone, consider the amount of space they have. Perhaps don't get a 2,000 piece jigsaw for someone in a studio apartment with minimal table surface area.
Buy the Hot Dogs Puzzle
8. Lego
Lego sets are great because they come with instructions and are often broken into sections. If it isn't finished in one sitting, you can always put the other sections away for later. They also have fun theme sets like those for Harry Potter or Friends fans.
Buy a Lego Set
9. Coloring books
Coloring can be a creative outlet and a way to destress. It can help improve sleep, decrease heart rate, and anxiety. As well as promote mindfulness to improve your ability to stay in the moment and focus. It's a good way to wind down at the end of the day.
Buy the By The Sea Adult Coloring Book
Books and audiobooks
The books you choose for someone should be based on their interests. It is also important to find out if they prefer to read or listen to their content.
Some ADHDers, like myself, find it difficult to focus on reading text. And may end up reading the same paragraph over and over again until a new shiny book comes along. For this, audiobooks are a great option.
If you aren't sure what your loved one will like, you can always look into a book subscription or gift card. Here are a few options:
Cookbooks
If you are shopping for someone who enjoys cooking, this list is for you.
The kitchen can be an overwhelming place. A lot of executive function is required when meal prepping or cleaning dishes. For this reason, many ADHDers appreciate less complicated, quick recipes with minimal ingredients. Below are some options.
Just make sure the person you are shopping for has a sheet pan, slow cooker or Instant Pot if you get these specialty cookbooks!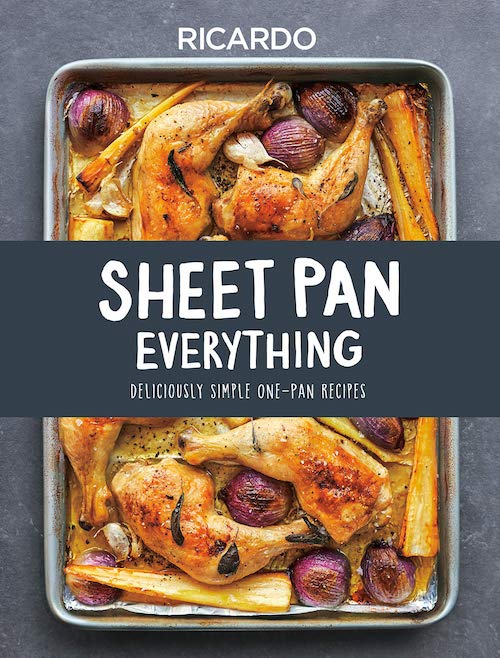 Work and study stuff
Focusing on boring tasks isn't necessarily an ADHDer's strong suit. If you are looking for gifts for adults with ADHD who work or go to school, you're in the right section. These are great options for professionals or college students.
Note that fidget toys can also be an effective tool for concentration. You can find these in one of the sections above.
10. Desk timer
Time blindness is a real thing for many neurodivergents. This is when it is difficult to sense how much time has passed. One thing that may help keep your loved one on track is a visual desk timer. These showcase the passage of time using color and alarms. It sounds simple but the visualization time can be quite helpful.
Buy the 60 Minute Visual Analog Desktop Clock
11. Desk treadmill
This is the perfect gift for those who work from home or those who love to walk and talk. These treadmills fit under your desk, are fairly silent and allow you to get in some mid-day exercise. I invested in one earlier this year and still use it a few times every week.
Buy the CITYSPORTS Desk Treadmill
12. Noise-canceling headphones. 
With brown noise being all the rage right now, you can't go wrong pairing it with noise-canceling headphones. These can help limit environmental distractions and increase focus.
If the gift receiver uses Apple products, they may love a pair of noise-canceling AirPods. They seamlessly sync to Apple phones, iPads and computer systems.
Buy the Noise-Canceling AirPods Pro (2nd Gen)
Comfortable and practical gifts for ADHD adults
Nothing says you care more than a gift that offers comfort and function. These are the items your loved one will likely use every day. That will bring some ease or convenience to their busy life.
13. Water bottle
Drinking water is important! I doubt I have to tell you that. But staying hydrated with ADHD can be a challenge. One thing that can make it a bit easier is an aesthetic and functional water bottle. One with a straw or flip up mouth piece that is easy to use and easy to clean (aka dishwasher safe or bust).
The LifewithPandJ glass water bottle has a flip up straw and holds a liter of liquid, so you can easily keep track of your water intake. It's also dishwasher safe – YAY.
Buy the LifewithPandJ 1L Water Bottle
14. Thermos or mug warmer
If you have ADHD, how many times do you microwave a cup of coffee before it's done? The answer is likely at least once. A thermos or mug warmer can solve this issue by keeping your drink warm while you take your sweet time finishing it.
I use a Yeti Rambler and would highly recommend it. The one that I have and that I linked below is leakproof, insulated and dishwasher safe.
Buy the 12 oz Yeti Rambler
15. Slippers or good quality socks
Some ADHDers can't stand the thought of their feet touching the floor. Others can't stand the thought of anything touching their feet. For the former, slippers with a sole are an absolute must.
If your loved one would prefer something lighter or less constricting than slippers, plain cozy socks (with no bumpy designs or fabrics) will do the trick. It might seem like a simple gift, but good quality socks are likely something we don't indulge in for ourselves.
Buy the UGG Ansley Slipper
16. Weighted blanket
Weighted blankets are a tool often used by occupational therapists for clients with ADHD, autism, insomnia and anxiety. The sensation is intended to activate our proprioceptive input. This is the sensory input that tells our muscles and joints to respond to some external stimuli.
A weighted blanket forces us to focus on the hug-like sensation in our bodies. This can make us feel more calm, mindful and focused.
Buy the Bare Home Weighted Blanket
17. Theragun
A personal massager can help with the aches and pains of sitting in strange positions and in soothing any built up tension. It's also one of those gifts that's a great option for physically active ADHD adults.
The Theragun uses percussive therapy to increase blood flow in the area and release muscle tension.
Buy the Theragun Mini
18. Acupressure mat
Similar to the Theragun, an acupressure mat is intended to relieve pain, muscle tension and associated stress. You lay on the mat for a period of time and relax while it applies passive pressure on the targeted areas. Heads up, it is not recommended for those who are pregnant.
Buy the TOMSHOO Acupressure Mat
19. Scrunchies
Whether you are cooking or trying to get some work done, scrunchies are the best at keeping your hair kink-free and out of your face. My friend, Sarah, is the owner of this amazing Canadian online store. They currently ship across Canada.
Buy from scrnch
Executive function
20. Apple AirTags or Tiles
If your loved one has a tendency to lose things, Apple AirTags or Tiles may very well be the perfect gift. You can stick these on your keys, in your bag or car, or even on your dog. They use Bluetooth signals to track down your belongings.
Buy an Apple AirTag or the Tile Mate
21. Shower radio with a clock
A visual timer can help with time blindness and reduce unnecessary time spent in the shower.
For some of us, the thought of 10+ minutes alone in silence is a nightmare. The radio portion can provide an element of entertainment to encourage ADHDers to get into the shower in the first place.
Buy the Waterproof Bluetooth Shower Speaker
22. Waterproof notepad
For when genius strikes in the shower…as it always does. As a kid I used to take my dad's waterproof field notebook into the tub (he's a biologist). Now I know this was because I didn't want a creative thought or doodle to escape me before I got out. These notepads are meant for "ideas" people.
Buy the Aquanotes Waterproof Notepad
23. Pill organizer
Forgetting to take your medication or multivitamins can be annoying and possibly even dangerous. Especially if you forget whether you've taken your meds or not. Doubling up on ADHD stimulants is no joke and will likely necessitate a call to the doctor.
A dated pill organizer can be life changing. When it comes to your pills, you never need to rely on memory again.
For any planning or expecting ADHD mothers, these things are a must for remembering to take prenatal vitamins.
Linked below is the two-pack I use. It's a basic plastic organizer, but it does the trick. Plus it's pink…
Buy the Two-Pack Portable Pill Organizers
24. Roomba
Can you imagine never having to vacuum again. Wouldn't that be the greatest gift?
A Roomba is a robot vacuum that learns the layout of its cleaning space and does all the work for you. You can set it to clean a specific room and can even pre-schedule it to clean when you'll be out of the house.
They can be pretty expensive, but if you have a larger budget, this could be the one. You can also find slightly used ones on Amazon or even Craigslist.
Buy the iRobot Roomba s9+ Self-Emptying Robot Vacuum
25. Smart Assistant
A smart assistant can add things to a grocery list, place a phone call, play music, answer questions…you name it. It's like having a personal assistant in your home. There are a few options to choose from, including the Amazon Echo or Google Nest.
Buy the Amazon Echo (4th Gen)
Gift cards
If you're unsure of exactly what to get, a gift card is an easy yet personalized option. Below are some suggestions.
Creative activity like painting, jewelry, perfume or pottery making
Massage
A gift to a favorite restaurant
And that's a wrap – pun intended. I hope you found my guide on gifts for adults with ADHD useful!
Have something to add to this list? Please comment below.
If you enjoyed this article on ADHD gifts for adults, please share it on Facebook, Twitter, Pinterest, Instagram or wherever you hang out.
If you're interested in learning more about meal planning with ADHD, check out my meal plan guide. It includes a FREE weekly meal planner.